The UK wants to phase out petrol-driven cars by 2035, but what does a world without fossil-fuelled vehicles look like, and how can businesses prepare for the inevitable transition?
Private vs Commercial Vehicle Greenhouse Gas Emissions
Road transport in the UK is responsible for 92% of the country's domestic transport greenhouse gas emissions. The majority of these are produced by passenger cars and taxis (55%). Meanwhile, commercial heavy goods vehicles account for 20%. The government's 2018 Road to Zero strategy appealed to the freight and logistics sector to make a voluntary commitment to reduce HGV greenhouse gas emissions by 15% by 2025 (compared to the levels in 2015).
By reducing the number of fossil fuel-emitting vehicles on the roads, the government aims to:
Reduce air pollution in urban areas (towns and cities)
Reduce reliance on foreign energy imports
Reduce carbon emissions as a whole
Countries Phasing Out Conventional Cars
Governments around the globe have set targets for phasing out internal combustion engine (ICE) vehicles within the next 30 years, in favour of electric or hybrid models. Some are targeting passenger vehicles, others are focusing on commercial vehicles, and others have set multiple goals.
The countries in the table below are ranked by their transition deadlines.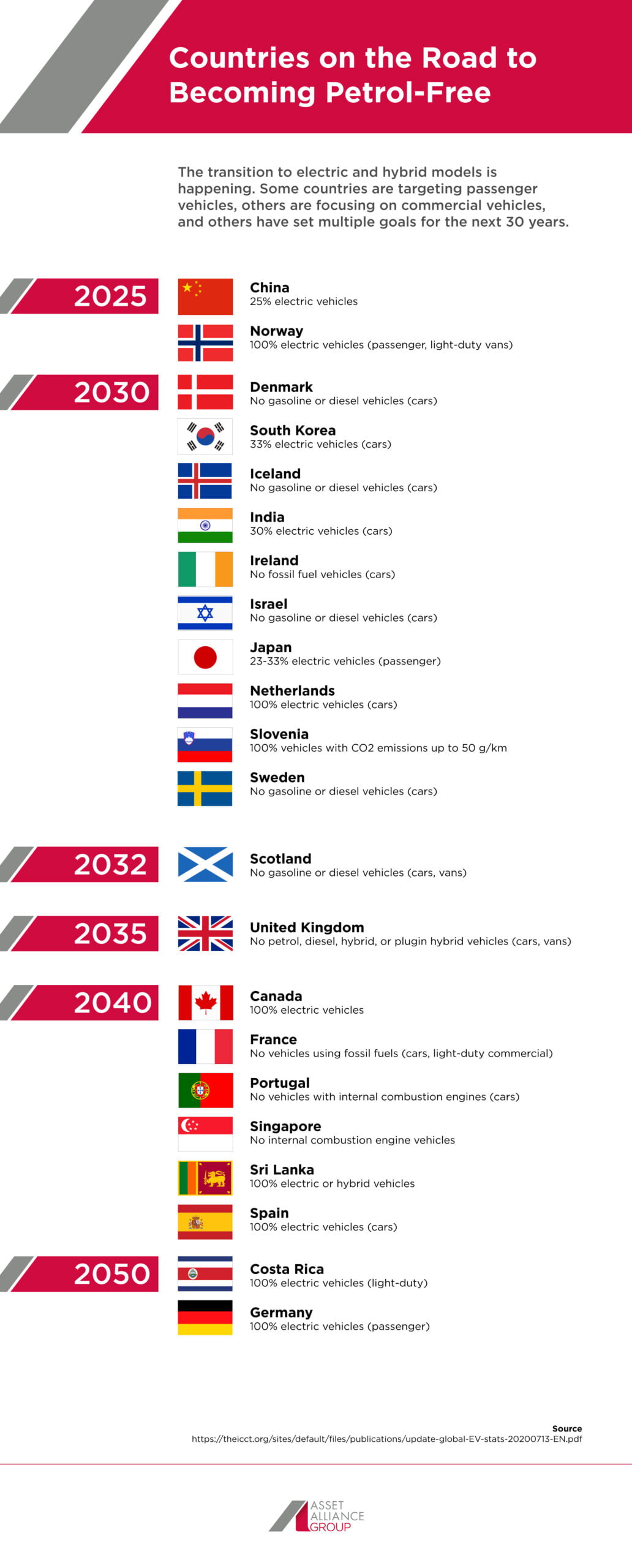 Top Potential Alternatives to Diesel
 In light of this, more motor industry operators are turning to the alternative fuels market. 20% of operators say they are looking to acquire alternatively fuelled HGVs in the next three years.
| | |
| --- | --- |
| Fuel Type/ Technology | Percentage of Operators Looking to Switch |
| Liquified natural gas (LNG) | 8% |
| Compressed natural gas (CNG) | 6% |
| Battery electric vehicle technology | 9% |
| Range-extended electric vehicle technology | 6% |
| Drop-in fuels, like hydrotreated vegetable oil (HVO) and gas to liquid (GTL) | 2% |
Cost is a major factor and potential deterrent for operators looking to switch over to alternative fuels. The majority (52%) say that a financial incentive from the government would encourage them to operate alternative-fuelled vehicles. 51% Say they need better access to refuelling infrastructure to make the switch more convenient, and 41% want lower upfront costs to help keep expenses down.
Benefits for Businesses
The switch to electric vehicles presents a number of potential benefits for UK businesses:
Lower fuel costs
Lower maintenance costs
Exemption from London's congestion charge and ULEZ charge
Exemption from Road Tax
Manufacturers and dealerships in the UK may also be able to purchase low-emission vehicles at a significant discount, through a government plug-in grant.
"A total switch to electric vehicles might seem like a long way off, but approaching deadlines are driving fleet operators to step-up their strategies. For a smooth transition, businesses should be planning ahead as far as possible. While Euro6 engines are certainly the most cost effective, low carbon option over the short to medium term, we would always encourage operators to discuss their medium to longer-term transition to zero carbon alternatives." – Willie Paterson, CEO Asset Alliance Group.
How Can Businesses Prepare for the Transition?
The process of transitioning to an electric fleet can seem dauting at first, and there are several factors to consider, such as cost, efficiency and buy-in from staff.
Spread the cost
The initial cost may seem high in comparison to a traditional fleet, but electric vehicle infrastructure can provide long-term savings for your business. To minimise initial outlay, spread the cost by replacing fleet vehicles as needed instead of in bulk.
Take advantage of incentives
Incentives are in place for businesses starting the transition to electric vehicles and fleets. For example, a super-deduction tax relief was announced in the budget, which will enable companies to cut their tax bill when investing in EVs. There may also be government funding available to ease the cost of transitioning.
Talk to Asset Alliance Group for support
Speak to Asset Alliance Group experts for a deeper understanding of the sector and how to prioritise and navigate the challenges ahead.