FLEXIBLE PLANT AND MACHINERY ASSET FINANCE SOLUTIONS
Are you in need of financing options for plant and machinery? Look no further than Asset Alliance Group. Our expertise lies in providing tailored asset finance solutions designed specifically for businesses in the plant and machinery industry. With our comprehensive range of funding options and competitive rates, we help you to acquire the equipment you need to grow your operations.
We understand that each business is unique, with its own specific requirements. Which is why our team of experts works closely with you to create a solution that aligns with your goals and budget. Whether you're looking to purchase new or used equipment and anything from excavators to manufacturing equipment, our flexible asset finance options can be tailored to suit your needs.
WHY FINANCE YOUR NEXT MACHINERY PURCHASE?
By choosing Asset Alliance Group for your asset finance needs, you gain several advantages:
Preserved Cash Flow: Our financing solutions allow you to preserve your working capital by spreading the cost of equipment over time, freeing up funds for other business needs or business growth.
Tax Efficiency: Depending on your circumstances, and the funding type, you may benefit from potential tax advantages when financing plant and machinery assets.
Upgraded Equipment: With asset finance, you have the flexibility to upgrade your equipment as technology advances, ensuring you stay competitive in your industry.
Fixed Monthly Payments: Our financing options offer fixed monthly payments and with flexible terms, it is easier to manage your budget whilst planning for the future.
WHY CHOOSE ASSET ALLIANCE GROUP FOR YOUR CAPITAL PURCHASES?
When it comes to plant and machinery asset finance, Asset Alliance Group stands out from the crowd. Here's why:
We are experts and have an extensive knowledge and experience in the industry, allowing us to understand your unique challenges and requirements.
Our team will work closely with you to create a financing solution that meets your specific needs, providing you with the flexibility and support to succeed.
We offer competitive rates on our asset finance solutions, with funding partners to suit all businesses, ensuring you get the best value for your investment.
Our dedicated team is committed to providing exceptional customer service, guiding you through the process and addressing any queries or concerns you may have.
FINANCING YOUR CAPITAL EXPENDITURE PROJECT?
If you are considering any form of capital investment in new equipment, systems or plant, please use this contact form to let us know what you are searching for and our team at Asset Alliance Group would be delighted to discuss how we can help.
"They've been able to provide excellent rates for the trucks and the aluminium trackway panels, and the team have been so easy to work with. The whole process has been seamless."
Blake Davis, Co-owner at Davis Trackhire
"We have developed an excellent partnership with their team, who provide a good and efficient service. They are very flexible and offered a competitive package to assist us through AMCO's latest growth phase"
Mark Jones, AMCO's Operations Director
OUR COMMERCIAL VEHICLE AND ASSET FINANCE OPTIONS
Truck and trailer funding
Our independent contract hire and leasing solutions will help you fund everything from a single asset to a large fleet with multiple contracts.
Read more about truck and trailer finance leasing.
Bus and coach finance
Save time and money on sourcing and procurement with the right mix of finance options for your fleet, including operating lease, hire purchase and finance lease.
Read more about bus and coach finance.
Vendor finance
Our expertise and scale of operation means we can take on the provision of leasing or hire purchase services to your customers, either with your own brand as a 'white label' service or with us as an independent referral service.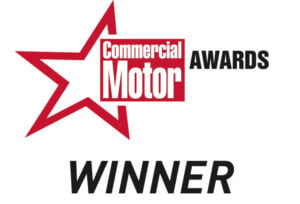 5 x Commercial Motor Award Winners
Two-time Finance Provider
Rental, Leasing and Contract Hire Provider
Independent Dealer of the Year
Service to the Industry
A UK LEADER IN COMMERCIAL VEHICLE AND TRANSPORT SOLUTIONS