THE SIMPLEST WAY TO FINANCE YOUR CAPITAL PURCHASES
Asset Alliance Group has not only redefined the way companies acquire transport and logistics vehicles but also how they make capital purchases. Whether investing in warehouse racking systems, manufacturing and plant equipment, garage equipment, ticketing machinery or buying computer hardware and technology, our industry-leading lending solutions can save you time and money.
We've been delivering secure capital purchase funding to a wide range of businesses for more than 15 years. Our dedicated division will support all your additional finance needs helping you to acquire the assets, equipment and systems you need to grow and thrive.
General Asset Finance provides a competitive offering via a world-class service. Choosing us as your trusted partner means you have one asset funder and a relationship manager dedicated to your success, minimising the time and paperwork typically involved with multiple asset purchase plans and suppliers.
HOW GENERAL ASSET FINANCE WORKS FOR YOU
Asset Alliance Group is your one-stop-shop for financing solutions and we can now support businesses to fund the majority of their CapEx requirements.
With the backing of Arbuthnot Latham Private & Commercial Bank, we have access to significant funds that allow us to offer financial products at competitive rates. We also source finance for clients through our broker panel, enabling us to provide a range of flexible finance options to aid the decision-making process and contribute to the long-term success of your company.
WHY CHOOSE ASSET ALLIANCE GROUP FOR YOUR CAPITAL PURCHASES?
Often the provider for one category of assets is not the best for another category. With Asset Alliance Group you instruct us to bring the best asset finance advice and options to you for whatever funding needs you have, so you don't have to.
We will scan the market for the very best deal for your purchases, delivering independent advice and personalised service you can trust.
Funding away from your main bank spreads risk and only uses the asset as security and not your business.
Access to the entire market enables us to provide you with an independent view and the asset finance product that's most appropriate for your company.
Our approach to sourcing the most competitive finance on your behalf will save you the time and inconvenience of doing this yourself.
Our scale of lending and access to our own secure funds will help deliver you the best rates.
FINANCING YOUR CAPITAL EXPENDITURE PROJECT?
If you are considering any form of capital investment in new equipment, systems or plant, please use this contact form to let us know what you are searching for and our team at Asset Alliance Group would be delighted to discuss how we can help.
"They've been able to provide excellent rates for the trucks and the aluminium trackway panels, and the team have been so easy to work with. The whole process has been seamless."
Blake Davis, Co-owner at Davis Trackhire
"We have developed an excellent partnership with their team, who provide a good and efficient service. They are very flexible and offered a competitive package to assist us through AMCO's latest growth phase"
Mark Jones, AMCO's Operations Director
OUR COMMERCIAL VEHICLE AND ASSET FINANCE OPTIONS
Truck and trailer funding
Our independent contract hire and leasing solutions will help you fund everything from a single asset to a large fleet with multiple contracts.
Read more about truck and trailer finance leasing.
Bus and coach finance
Save time and money on sourcing and procurement with the right mix of finance options for your fleet, including operating lease, hire purchase and finance lease.
Read more about bus and coach finance.
Vendor finance
Our expertise and scale of operation means we can take on the provision of leasing or hire purchase services to your customers, either with your own brand as a 'white label' service or with us as an independent referral service.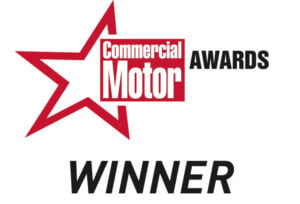 5 x Commercial Motor Award Winners
Two-time Finance Provider
Rental, Leasing and Contract Hire Provider
Independent Dealer of the Year
Service to the Industry
A UK LEADER IN COMMERCIAL VEHICLE AND TRANSPORT SOLUTIONS