From electric vehicles and AI to wearable tech and onboard camera systems, find out how advances in driving technology could impact the HGV of the future.  
Driver numbers are stabilising in the UK amid ongoing efforts to recruit and upskill new HGV drivers. In March this year, 74% more lorry driving tests were done compared to the year before, and in Q2 of 2022, demand for heavy good vehicles grew by 0.4%.
And while our Industry Monitor revealed fuel costs were a growing concern for 43% of industry leaders, Asset Alliance CEO Willie Paterson is optimistic that the transportation industry will drive plenty of opportunities and growth. 70% of heavy goods vehicle drivers said they're planning to add extra trucks to their fleet this year, alongside 61% hoping to operate alternatively fuelled vehicles.
Technology  as a Growth Driver
Transport technology advancements are driving growth across the industry. AI and big data are helping manage fleets more efficiently, vehicle safety technology is improving haulage journeys, and advances in various technologies are helping to decrease carbon and increase sustainability.
According to Paul Wright, Sales Director at Asset Alliance, "operators are increasingly aware of the benefits of using technology in the industry and as a result, we're seeing increasing demand for these types of solutions."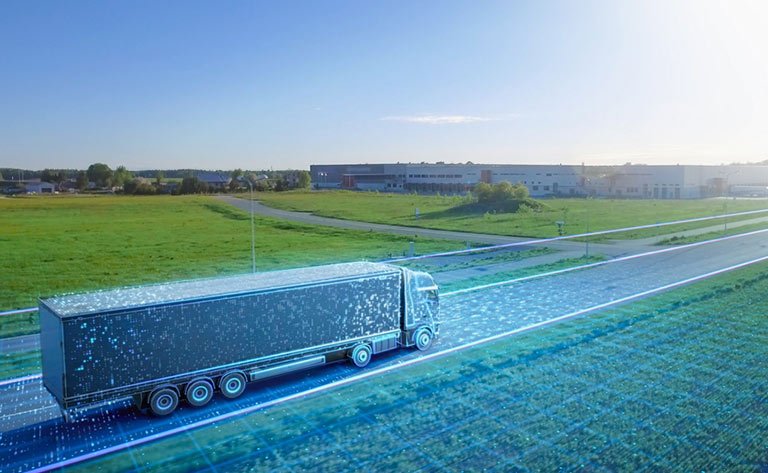 Five Technology Trends Shaping the Transport Industry
1.    Camera and video technology
Studies suggest that camera sensor technology can significantly improve safety by reducing harsh braking by 16%, over-speeding by 34% and sharp cornering by 31%. Alongside this, advances in video telematics mean transport operators can perform more detailed risk assessments ahead of each journey, with real-time traffic and geographic information making it easier to predict congestion and delays.
2.    Wearable Tech
Wearable tech devices can already monitor and analyse vital biometric data for drivers, such as sleep, wellbeing and stress levels. As it advances, this tech could also be used to identify fatigue, notify drivers if they are distracted while driving, and relay vital information while on the road, such as unsafe driving conditions.
3.    Platooning trials
Real-world platooning trials in the UK have shown how Adaptive Cruise Control can save small amounts of fuel and that on roads optimised for platooning, savings could increase by up to 4.1%. While the savings in fuel might not support the business case to invest in platooning operations right now, there are other benefits, including improved safety in close following scenarios, for example.
4.    Internet of Things
Typically, IoT tracks the real-time locations of HGVs and the overall journey experience. GPS trackers are installed for geo-fencing, in which real-time data is transmitted to a central system and updated to a mobile device. By implementing IoT, fleet managers and drivers can instantly respond to everyday situations such as traffic, bad weather and satellite navigation, and this technology is becoming more detailed and accessible every day.
5.    Big Data
Big data has improved operational efficiency, end-to-end customer experiences, reduced fuel consumption and increased flexibility. Using tools such as satellite navigation and sensors, HGVs have been able to track and optimise truck routes by using public data such as road conditions, delivery addresses, and the location of petrol stations. This data can also calculate the ideal and cheapest routes to destinations to increase savings.
Speak to an expert at Asset Alliance today about new vehicle trends and technology to improve your fleet. Get in touch.