Last year, online searches for 'how to become an HGV driver' ramped up by 200% as news of the driver shortage peaked in the UK.
The topic made headlines as widespread fuel shortages caused significant disruptions across the country, and long queues at petrol stations shone a much-needed light on the current state of the HGV workforce.
By this time, the number of HGV drivers across the UK had already dipped by 13%, which saw the workforce down by 39,000 people, particularly in the under 30s age group.
Fortunately, widespread media attention has led to some positive developments:
In the last quarter of 2021, 5300 HGV passes were approved per month, a 50% increase on pre-pandemic numbers
In early 2022, the UK government announced plans to allocate £20 million to improve facilities for HGV drivers, such as security, lighting, showers and eating facilities
These initiatives are positively impacting the industry, and there is a growing interest in people looking to HGV driving as a career move.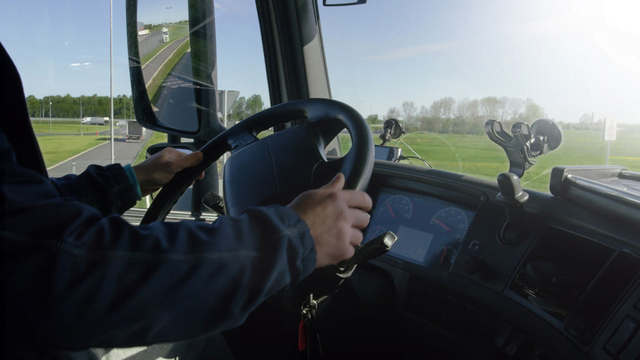 How to qualify as an HGV driver
Here's everything you need to know to join the increasing numbers of people becoming qualified HGV drivers in the UK.
To become an HGV driver, you must attain a Driver Certificate of Professional Competence (CPC). A CPC is needed to drive anything over 3.5t.
The Driver Certificate of Professional Competence (CPC) aims to improve driving standards and road safety. This consists of a four-part theory test that assesses your ability to stay roadworthy. Once completed with a considerable mark, you'll need to undergo a Driver CPC and a 35-hour refresher programme every five years. Proof of this qualification needs to be on hand for HGV Class 1 drivers at all times when driving the vehicle.
These are the six steps needed to get your CPC.
1.       Apply for a provisional HGV licence
You'll already need a valid UK driving licence, and you'll also need to get a doctor to fill out the D4 form which comes with the application.
2.       Theory test
Once you've got your provisional licence, you can book a theory test. You will be asked multiple-choice questions like a standard UK driving theory test and complete several hazard perception tasks.
To prepare for the test, you'll need to revise the High way Code and traffic signs and read the Official DVSA Guide to Driving Goods Vehicles. There is also a practical online guide to hazard perception.
3.       Case Studies Test
This test assesses your ability to respond to scenarios you're likely to find yourself in working as an HGV driver. You'll read seven case studies and be asked multiple-choice questions on each one.
4.       Off-road exercises
This test involves performing several off-road manoeuvres in an HGV, including an 'S' reverse into a bay and a coupling procedure with a trailer.
5.       On-road test
The on-road test corresponds to the standard driving test you must complete in a passenger vehicle. After some safety questions, you'll drive around for an hour and be assessed on the competency of your driving on the road.
6.       Practical demonstration
In the final test, your ability to manage risk around an HGV, react to emergencies and load the vehicle properly will be assessed. When you pass this test, you will have qualified for a CPC.
How old do you have to be for HGV Class 1?
Provided you have a CPC qualification, you can drive Class C + E vehicles if you are aged between 18-20. Otherwise, 21 is the minimum age.
What different HGV qualifications are there?
All HGV qualifications require completing the above tests, but you can achieve different qualifications depending on the type of vehicle you'd like to drive.
The two main types of qualifications are called Class 1 and Class 2.
A Class 1 HGV licence, also known as a category C + E license, allows you to drive vehicles that are 7 and half tonnes and above and have a trailer that detaches. These vehicles are typically very large and used for long haul routes.
A Class 2 qualification will allow you to drive vehicles heavier than 7.5 tonnes with rigid bodies (non-detachable trailers).
These are the two main types of licences, but there are others. For example, an ADR licence allows drivers to transport dangerous goods, poisonous or corrosive cargo. An ADR licence is a good option for getting into specialised HGV careers.
What does a HGV Class 1 driver do?
A Class 1 driver has more responsibility than a Class 2 driver, owing to the increased vehicle load. There is no minimum experience required to become a Class 1 driver, but you must carry out several duties on a typical day. Some duties and responsibilities include:
operating commercial vehicles of 7.5 tonnes or over, including transporters, articulated lorries, trailer wagons, rigid trucks and tankers
driving long and short distances
completing delivery paperwork
following traffic reports
adapting routes
spending nights away from home
planning delivery schedules and routes with transport managers
helping to load and unload goods
carrying out basic vehicle maintenance
keeping up-to-date logbooks
driving long distances
ensuring the safety of goods
lifting and carrying heavy goods
How much does an HGV driver earn?
Earnings are dependent on experience and qualification level. The average salary for an HGV driver is £32,100 per year. New starters can earn up to £21,000 a year, while experienced drivers can expect to earn up to £60,000.
Long-distance HGV drivers earn on average £39,000 per year, but working long-distance hauls is very likely to require a Class 1 licence. Class 2 drivers earn an average of £26,000 per year by comparison.
How much does it cost to qualify as an HGV driver?
It could cost up to £2,500 for everything you need to become a fully qualified HGV driver.
The cost of training and tests constitutes qualifying costs. There's no standard price for training, but you can usually expect to pay the following:
Driving course – between £1000-2000
Driver's medical – between £50-£150
Theory tests – £37
Driving test – up to £141
Practical test – up to £63
How do I get my HGV licence for free?
There are government grants available to those looking to start a career in HGV driving. Some companies will pay for your training, while those who are unemployed can get funding through the jobcentre.
Where is the best place to work as an HGV driver?
Research shows these are the top five best places in the UK to work as an HGV driver:
East and West Midlands
HGV drivers can earn upwards of £30,000 per year in East Midlands, second only to London, while a low cost of living in the West Midlands makes it an appealing place to live and work. Both areas have more than 30,000 HVG jobs on offer.
Yorkshire & The Humber
This area has one of the highest job densities of anywhere else in the country, meaning there are more than 7 HGV driver jobs per 1,000 working people in Yorkshire & The Humber.
North East
Drivers can earn £29,000 a year in the North East, and the area has around 5.5 jobs per 1,000 working people.
Scotland
There are 6.5 HGV jobs per 1,000 working people in Scotland, and the cost of living is appealing to drivers, who can earn just over £28,000 a year.
East
Drivers in the East can earn around £30,000 a year and there are 6.2 jobs per 1,000 people, making it one of the higher job densities in the UK.
Overall, the North West has the highest number of jobs available, at 23,000.
Grow your HGV fleet today
With interest in HGV careers on the rise, now is the perfect time to expand your business. Speak to us to find out how we can help.