Selecting commercial vehicles for your business can be daunting. It seems there's a different type of trailer for every load. In this article, we walk you through some of the most common types of trailers available. Whether you're after cargo trailers for sale or a contract hire and leasing option, you'll first need to know a box van from a walking floor.
No list of trailer types is ever exhaustive. This is because older types of trailers are modified and new trailers created as industries grow and their transportation needs change. Each commercial truck and trailer is built to perform in different ways and with specific weight limits. As a general guideline, when setting out to select new trailers or used trailers for sale or hire, work out the weight of the trailer as well as the weight of the freight to be shipped. Include the width of your load in your calculations, because you may need additional permits if your load is wider than the legal limit. This will give you a load weight and width – the starting point for choosing the right trailer for your purposes.
Box van trailers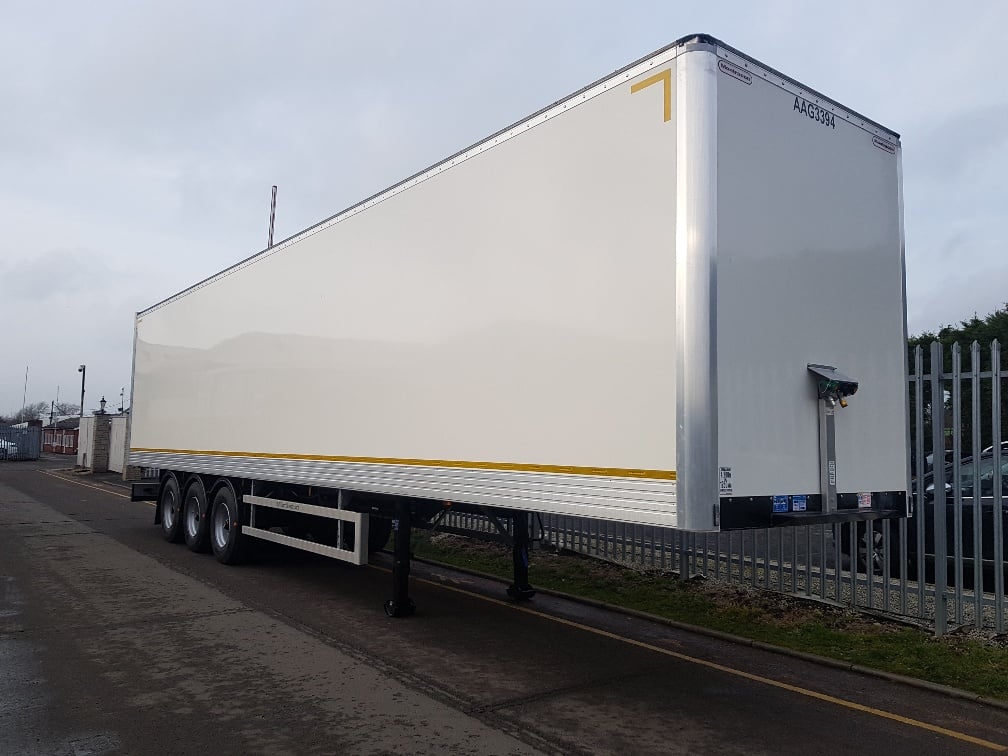 The box van is one of the most commonly used rigid truck and trailer units. Also known as a box trailer, dry freighter van or enclosed trailer, it is a completely rigid unit with loading doors at the back of the vehicle. This makes the box van a secure option for valuable goods and items like food, clothes and electronics, that need to remain weatherproof during transportation. Goods are typically stacked on pallets and loaded with a forklift or truck.
Specifications are typically as follows, but may vary:
Tare (unladen) weight: 8,600 kg
Maximum payload: 31,400 kg
Width: 2.46 m
Height: 2.70 m
Curtain side trailers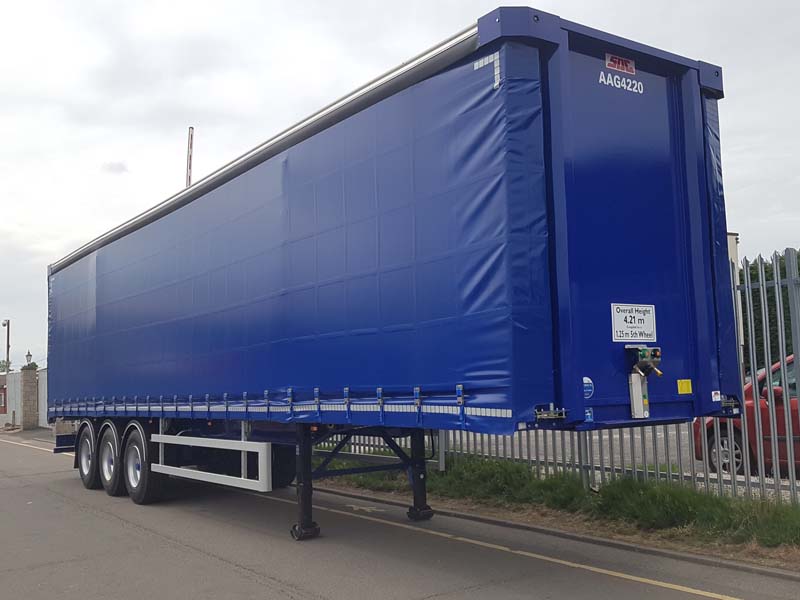 A favourite with the road transport industry, the curtain side trailer has a rigid roof, rear doors, and PVC curtain sides that can be pulled back for easy loading. Curtain side trailers can also be transported on railway carriages if they have a hucker pack facility.
Specifications are typically as follows, but may vary:
Tare weight: 7,200 kg
Maximum payload: 32,800 kg
Width: 2.48 m
Height: 2.70 m
Flatbed trailers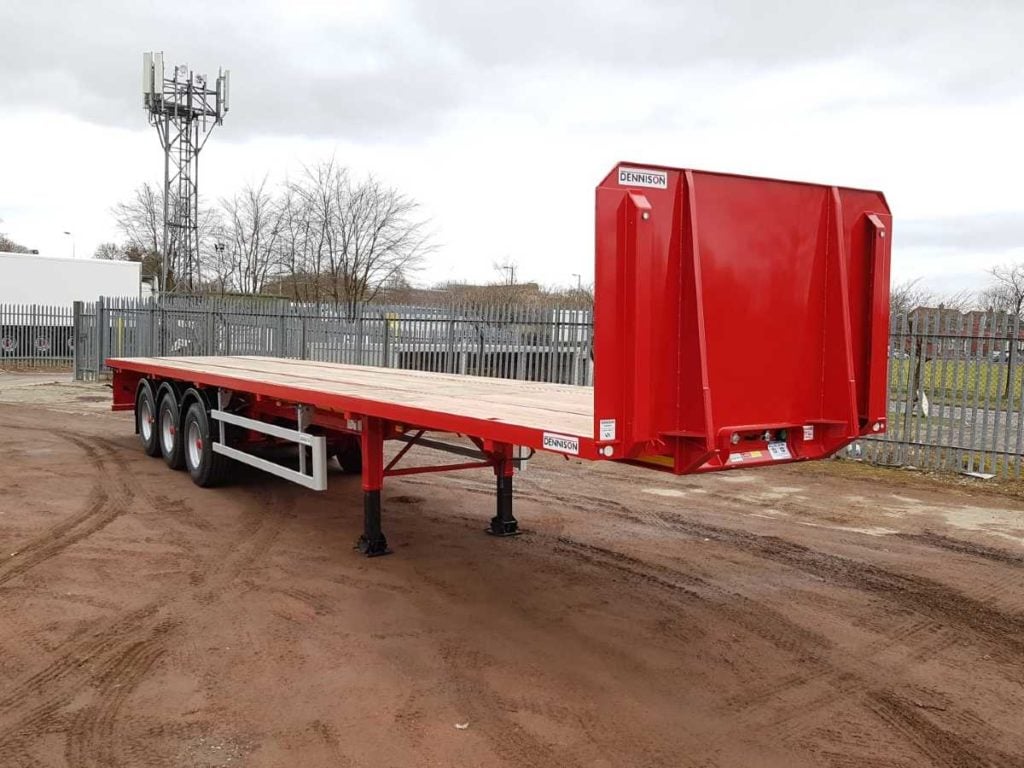 The flatbed trailer can be used for most types of cargo that do not need to be protected from the elements or need only be protected with a tarpaulin cover – like lumber, cables or steel pipes. A tilt trailer provides flatbed transportation and has a removable PVC canopy. Completely level, flatbed trailers can be loaded and off-loaded with ease. This versatile trailer can also be loaded from above with a crane or from the side with other types of hoists depending on the cargo.
Similar to flatbeds, step deck trailers can carry a maximum freight height of three metres, allowing the trailer to carry loads with additional height that flatbed trailers would not be able to carry due to height restrictions.
Extendable flatbed trailers are designed to support long loads like beams or pipes. Typically, they can extend from an average three metres to 24 metres.
Specifications are typically as follows, but may vary:
Tare weight: 6,500 kg
Maximum payload: 31,900 kg
Internal length: 13.62 m
Width: 2.48 m
Low loader trailers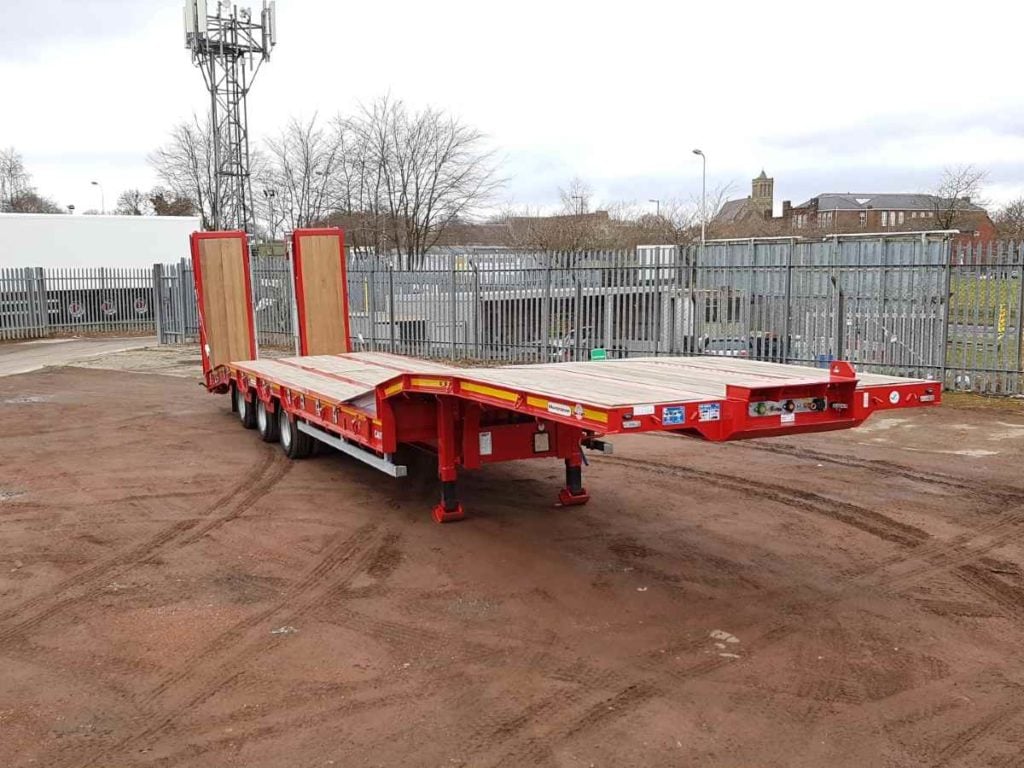 Low loaders were designed to be low to the ground for easy loading and transportation of heavy machinery and other outsize goods, like heavy construction equipment. Undoubtedly the workhorse of trailers, low loaders are designed to carry taller goods that exceed the legal height of items carried by flatbed trailers. Depending on the number of axles and tractor plated weights, a low loader can haul as much as 38,000 kg of weight.
Before operating your new low loader or trailer hire, make sure that you have the necessary permits required for low loader trailers. As the UK's largest independent retailer of new, nearly new and used commercial vehicle sales, our expert advisors at Asset Alliance Group Truck and Trailer Sales can provide you with the information you need to make sure you have the right permits for your particular load or freight type.
Specifications are typically as follows, but may vary:
Maximum payload (2-axle): 18,000 kg (with an additional 36,000 kg depending on the number of axles)
Width: 2.5 m
Height: 4.3m
Refrigerated trailers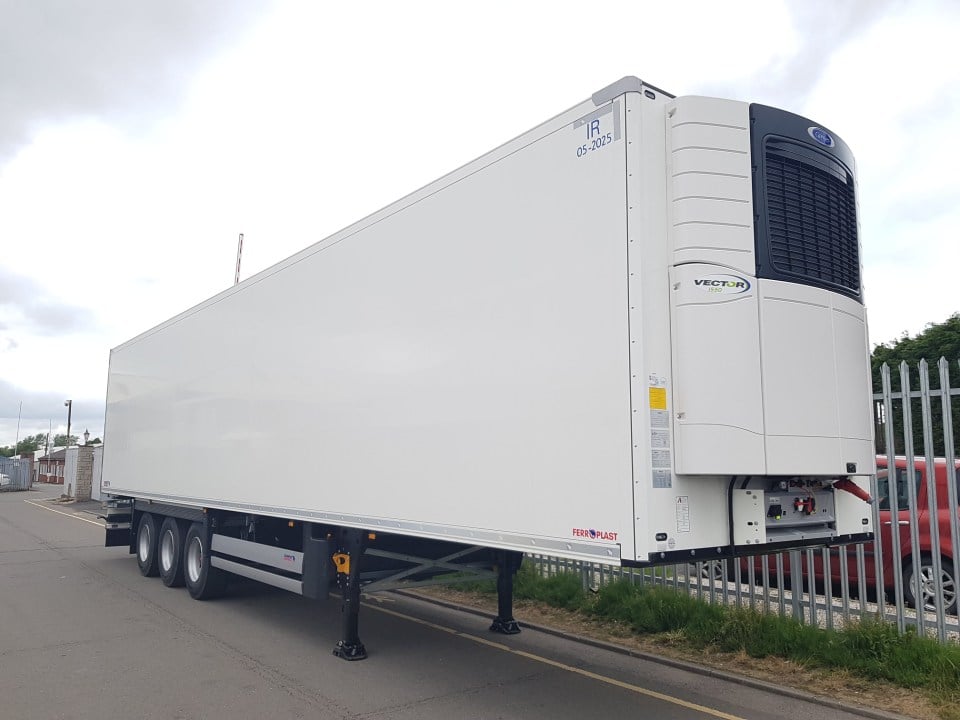 Refrigerated trailers, also called reefer trailers, are similar to box trailers except they are insulated and have a cooling system to keep goods fresh during transportation. Refrigerated trailers are used mainly for frozen food and produce but can also be used to transport temperature-sensitive items like pharmaceuticals. If you're on the lookout for fridge trailers for sale our Asset Alliance Group Truck and Trailer sales division combines over 25 years of ATE Truck and Trailer Sales and over 35 years of Hanbury Riverside experience. As true asset management professionals we purchase, refinance and procure new trailers and second hand trailers for our clients. We can buy your assets outright or tailor monthly contracts to your needs.
Specifications are typically as follows, but may vary:
Tare weight: 9,000 kg
Maximum payload: 31,000 kg
Width: 2.48 m
Height: 2.60 m
Skeletal trailers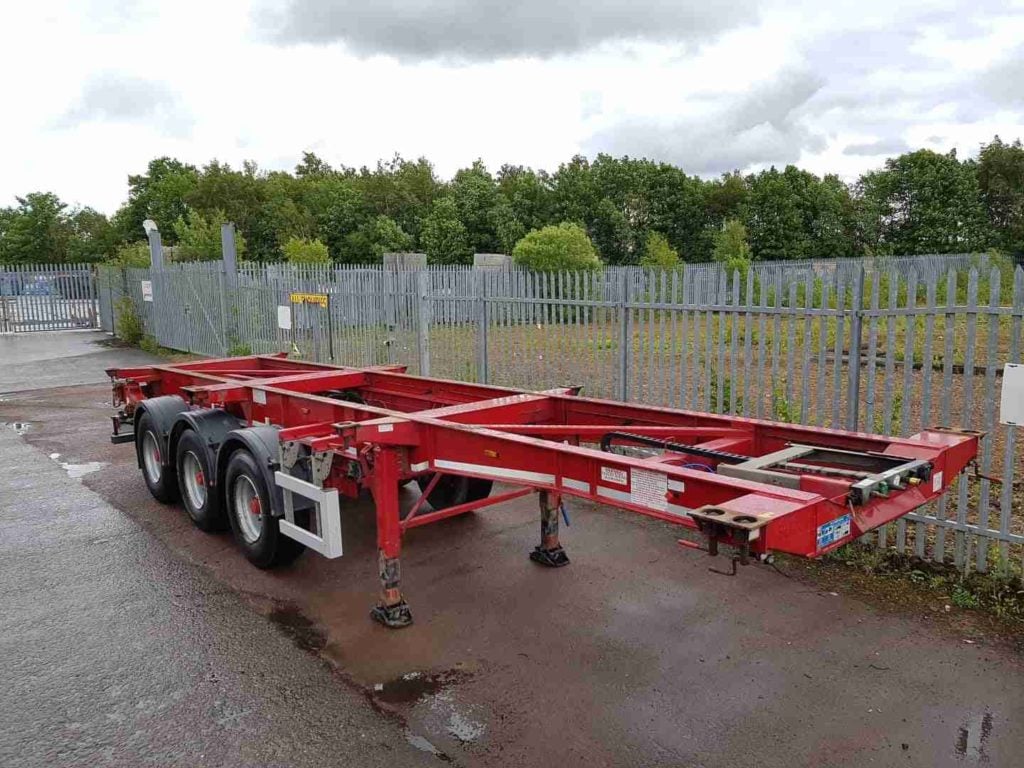 Skeletal trailers were originally designed to transport goods by road that had been shipped internationally in containers. Skeletal trailers have come a long way since they first carried six metre containers secured in the middle of a trailer by twist locks. Today's skeletal trailers can now carry two six-metre trailers as well as 12-metre and 14-metre containers. The flexibility of the skeletal trailer is due to its wheelbase, which can be shortened to carry a six metre container in the middle of the trailer on the road then move the container to the back of the trailer for loading and unloading. Combi skeletal trailers can transport two six-metre containers and split in half to place both on a loading bay at the same time. When fitted with cranes, skeletal trailers can be loaded and unloaded at ground level.
Specifications for skeletal trailers are dependent on the number of axles and the trailer's design. For example, a 3 axle skeletal trailer may typically have an overall length of between 9m and 13.6m, a tare weight of 5 tonnes on a sliding chassis, and an overall payload of 30 tonnes – but can vary.
Moving floor trailers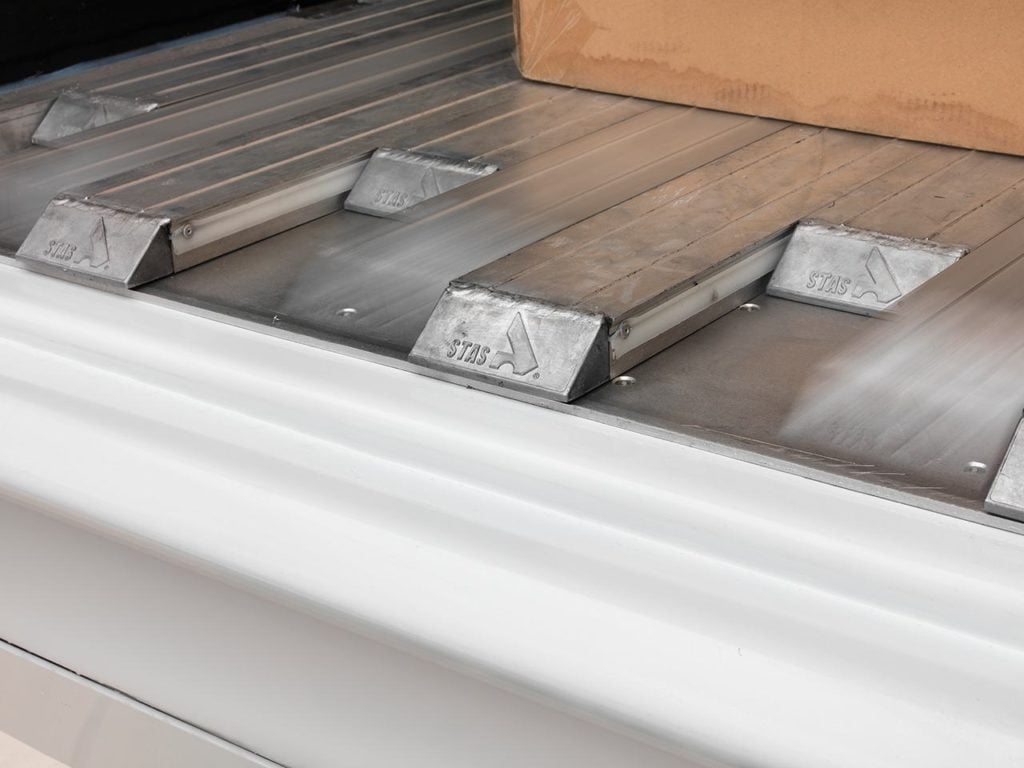 As the name suggests, the moving floor trailer is a hydraulically-driven conveyance system for moving bulk material or goods packed onto pallets. The trailer can be used in a warehouse, loading dock or semi-trailer without a forklift having to enter the trailer. Unlike trailers that use a dumping system for off-loading, the moving floor can unload loose material without having to tip the trailer or tilt the floor.
Specifications are typically as follows, but may vary:
Tare weight: 8,550 kg
Maximum payload: 31,450 kg
Width: 2.6 m
Height: 4.3 m
Leaving it to the trailer experts
Selecting the right trailer for your needs is far from simple. If you're in any doubt about the best trailers for your business and the legal implications, or if you're still undecided about the benefits of commercial vehicle leasing and commercial vehicle hire, then speak to a freight broker before making these important decisions.
At Asset Alliance Group Truck and Trailer Sales, we can go farther than simply advising on and supplying new truck trailers for sale or second hand trailers for sale. We're able to look after all your needs whether servicing, repair, refurbishment, customisation or stacking for export – all from our on-site facilities across 3 locations which include workshops and the UK's longest VOSA authorized testing facility.
Contact our experienced staff to find out how we can put our industry knowledge to work for you, making sure you feel confident in the value and quality of our vehicles and trailers, and of course the service and support our customers always expect.