British GT Championship race ace Jonny Adam has unveiled a special helmet design to raise awareness of Maggie's, the cancer care charity supported by our CEO, Willie Paterson, and the team at Asset Alliance Group.
Jonny will debut the helmet – custom-painted in Maggie's colours to symbolise hope, strength and solidarity in the face of cancer – for two races at Snetterton on Sunday. He's aiming to secure a new win record and is chasing a history-making fifth championship title.
We're proud to sponsor Jonny in his racing ambitions this season and delighted that he is supporting Maggie's again. He backed the inaugural Drive to Maggie's event in 2021 by treating supporters who donated to the cause with a high-speed passenger lap at Knockhill racing circuit. Since then, he has continued to use his platform to raise awareness and funds for the charity.
Speaking about the partnership, Jonny says: "Maggie's makes a significant impact in the lives of countless individuals facing the challenges of cancer.  That's why I'm honoured to wear this stunning Drive to Maggie's inspired helmet while racing in British GT this season.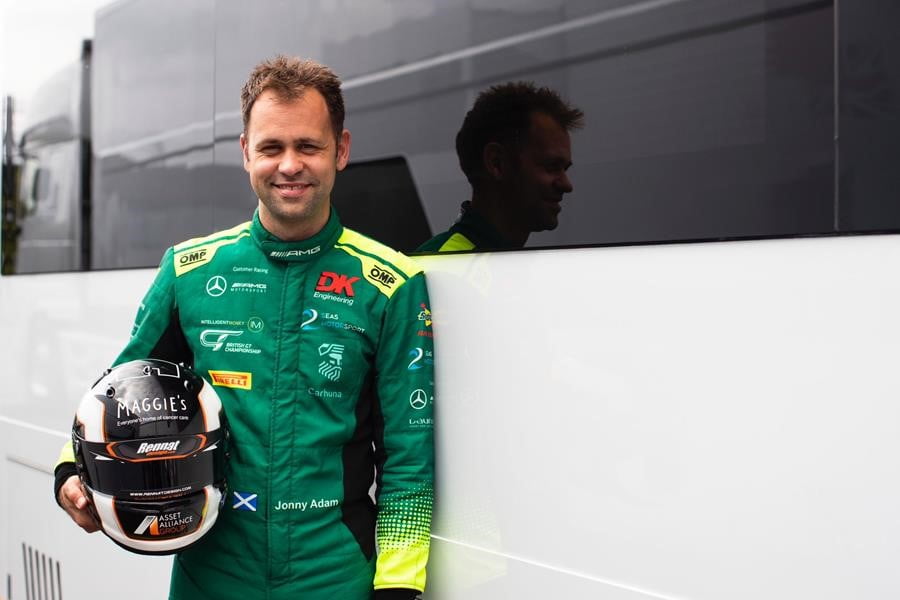 "Cancer affects so many lives, and having seen the positive impact that Maggie's has on individuals and their families, I hope this partnership inspires others to get involved and contribute to this vital organisation."
Willie says: "We are delighted to have Jonny as our ambassador. His commitment to raising awareness for Drive to Maggie's is commendable, and we are incredibly grateful for his support.
"With the auction of this unique helmet, we hope to raise significant funds for Maggie's so they can continue offering crucial services to those affected by cancer."
Willie helps organise a biannual corporate fundraising event for Maggie's that two years ago raised around £200,000.
The Maggie's-themed racing helmet will be auctioned off in August at the Drive to Maggie's charity driving tour – with the money raised going directly to support the charity's vital services.
Stay tuned for further updates on the auction and how you can support Maggie's mission to make a difference in the lives of cancer patients and their loved ones.