It's impossible to imagine a world without trucks and trailers rumbling along our motorways. But it's only been just over 120 years since Gottlieb Daimler's first truck broke new ground with a four horsepower engine and a belt drive with two forward speeds and one reverse. In this blog, we share some of our favourite manufacturers and the trucks that keep them on the map.
It takes many years and as much as £5 billion to take a new truck from design to commercial production. The road transport industry places especially rigorous demands on the performance and safety of trucks and trailers on our roads. Without some of the world's best scientists, designers and engineers at their disposal, our favourite truck and trailer manufacturers would not be able to keep producing vehicles that are simultaneously beasts of burden, marvels of technology and (if you're a true rigid truck and trailer enthusiast) works of art.
DAF Trucks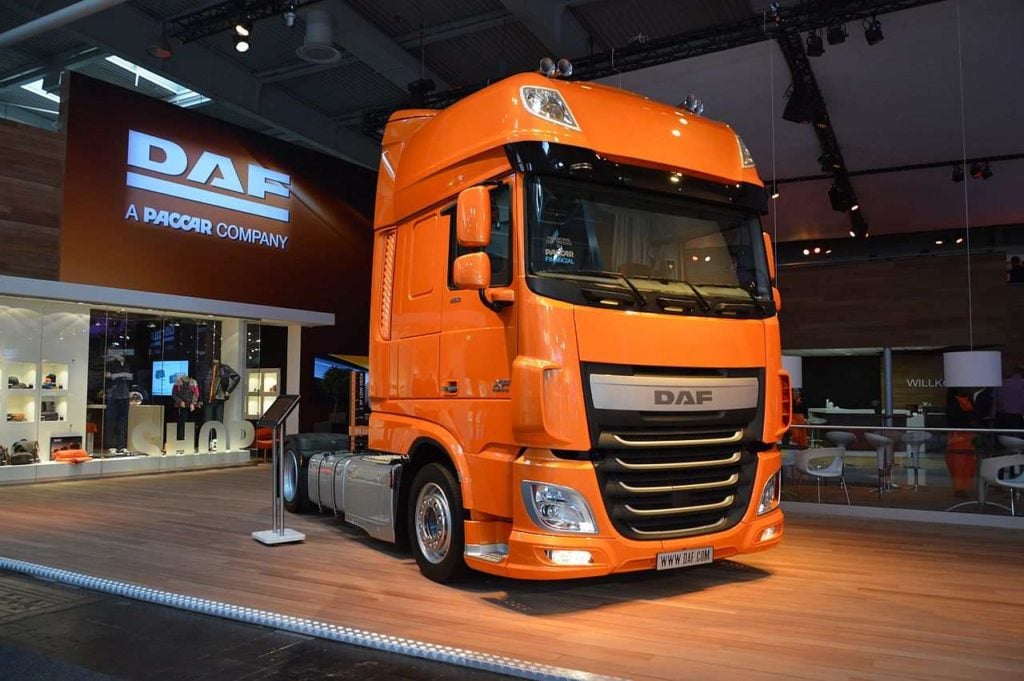 DAF Trucks' current models include the CF, XF and LF series. The DAF XF is one of the most successful ranges produced by the Dutch manufacturer. Featuring a 12.9 litre (PACCAR MX 11 or 13) engine and ZF AS Tronic gearbox in both manual and automatic formats, the XF 105 took the International Truck of the Year 2007 award and is one of the best selling trucks in the UK. In fact, the DAF XF tractor unit has set the benchmark for trucks the world over.
The DAF XF enables increased payloads for all axle configurations. The series has achieved a 125 kg weight reduction depending on the axle configuration. In addition, a new double-driven tandem with hub reduction is available for off-road driving. The axle set has a cast-iron housing that achieves an additional weight reduction of 60 kg which facilitates higher payloads and boosts efficiency in heavy haulage. A double-mounted trailing axle reduces vehicle weight by 25 kg and increases payload from 29 tonnes to 34 tonnes. The double-mounted trailing axle can be fitted on 6×2 tractors and rigids, as well as 8×2 rigids.
Interested in adding a DAF XF truck to your fleet? Asset Alliance Group Truck and Trailer Sales is the UK's largest independent retailer of new, nearly new and used rigid trucks and trailers, and tractor units for sale. We not only supply trucks for sale, we can also look after all your needs around servicing, repair, refurbishment, customisation and stacking for export.
MAN Trucks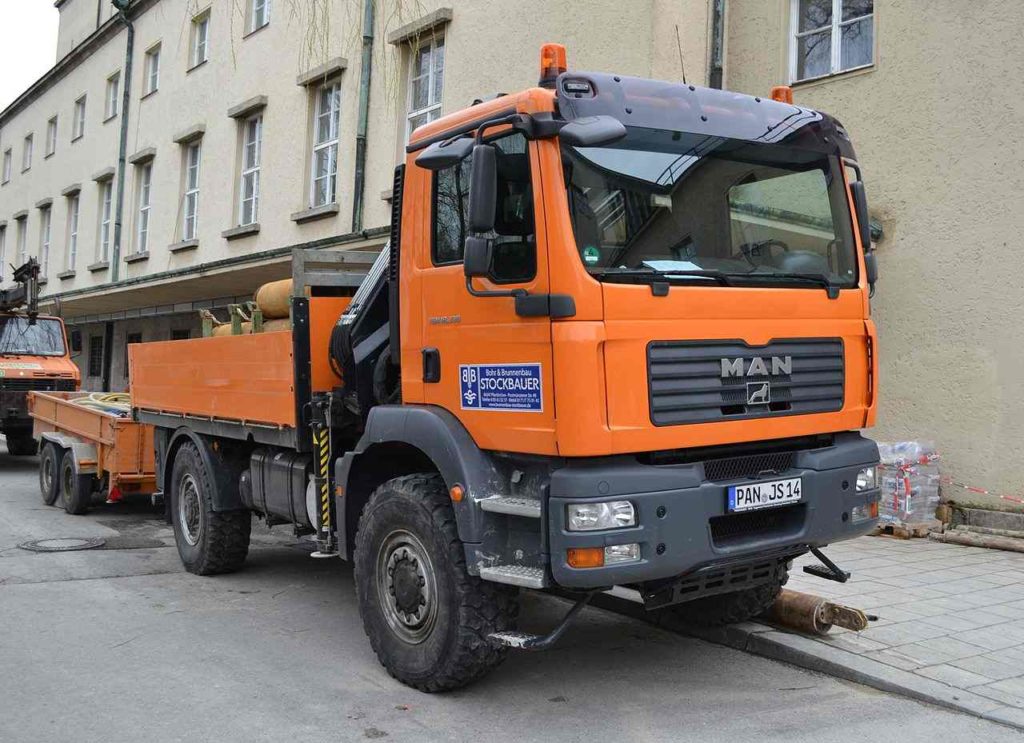 MAN Truck & Bus AG, based in Munich, Germany, is one of the leading international providers of commercial vehicles. Owned in majority by Volkswagen AG, the MAN Group's two divisions – MAN Truck & Bus and MAN Latin America – had sales that totaled €12.1 billion in 2018.
The MAN TGX range, manufactured by MAN Truck & Bus AG, Germany, is a popular choice for many UK hauliers operating three-axle tractors. Although the MAN's D26 engine experienced some issues relating to the exhaust gas recirculation (EGR) cooler in the early days, it has gone on to earn a reputation as a strong and reputable unit. The TGX features EfficientCruise2 and EfficientRoll to help reduce the overall costs of operation, while adaptive cruise control (ACC) and MAN's BrakeMatic (EBS) matched with emergency brake assist (EBA2) make light work of braking.
The TGX has a Gross Combination Weight of 44,000 kg (meeting the UK legal weight limit of 44,000 kg) and a Gross Vehicle Weight of 26,000 kg. The front axle is 8,000 kg, the midlift axle 7,100=, and the drive axle 11,500 kg. Optional equipment includes a fixed fifth wheel front and rear with a weight of 14 kg and 63 kg respectively.
Scania trucks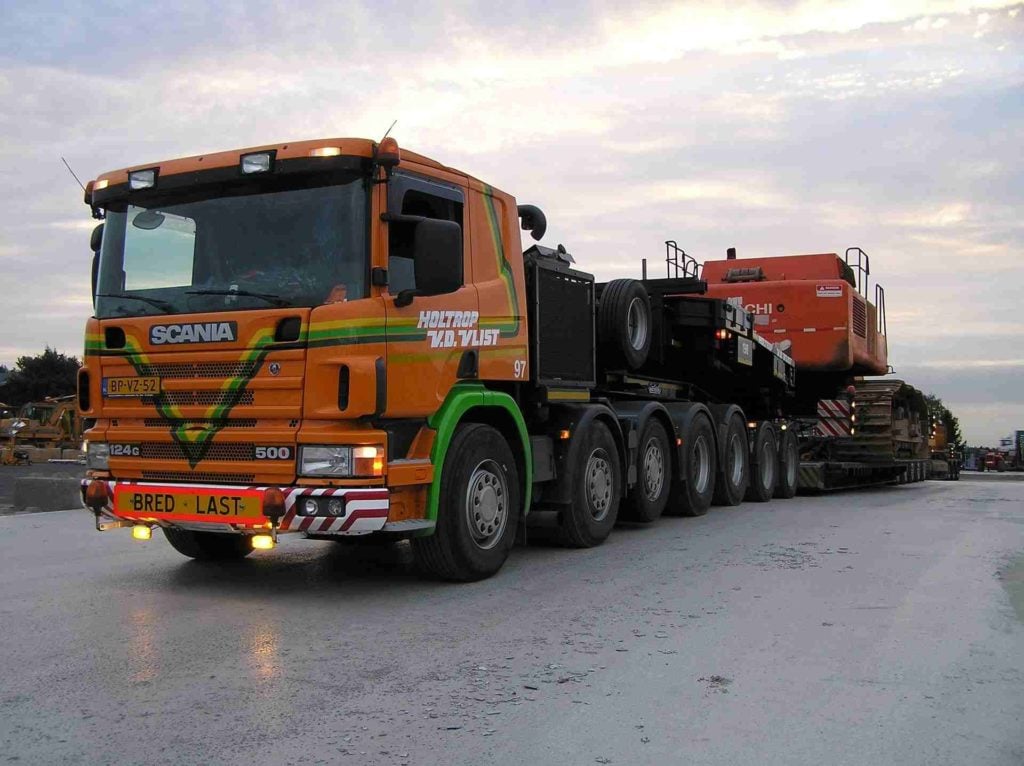 Swedish manufacturer, Scania AB, specialises in the production of heavy trucks and buses as well as the manufacture of diesel engines for heavy vehicles. Scania trucks' popular P Series (designed for delivery transport and light construction sites) had a facelift in 2011 – its exterior restyled in line with the G- and R-series, with sharper lines and larger grille openings. Revised bumpers are now available in two heights, both with integrated mounting space for the Adaptive Cruise Control radar at the centre.
The Scania P Series has kept its standard Silver Brilliant grille colour but the iconic Scania logo is larger this time around. Not just a pretty face, the truck has the widest cab range in its class with five configurations – short cab, day cab, low cab and two sleeper cabs. The Scania P230 has a Gross Vehicle Weight of 1,500 kg and a Gross Combination Weight of 18,000 kg.
Volvo trucks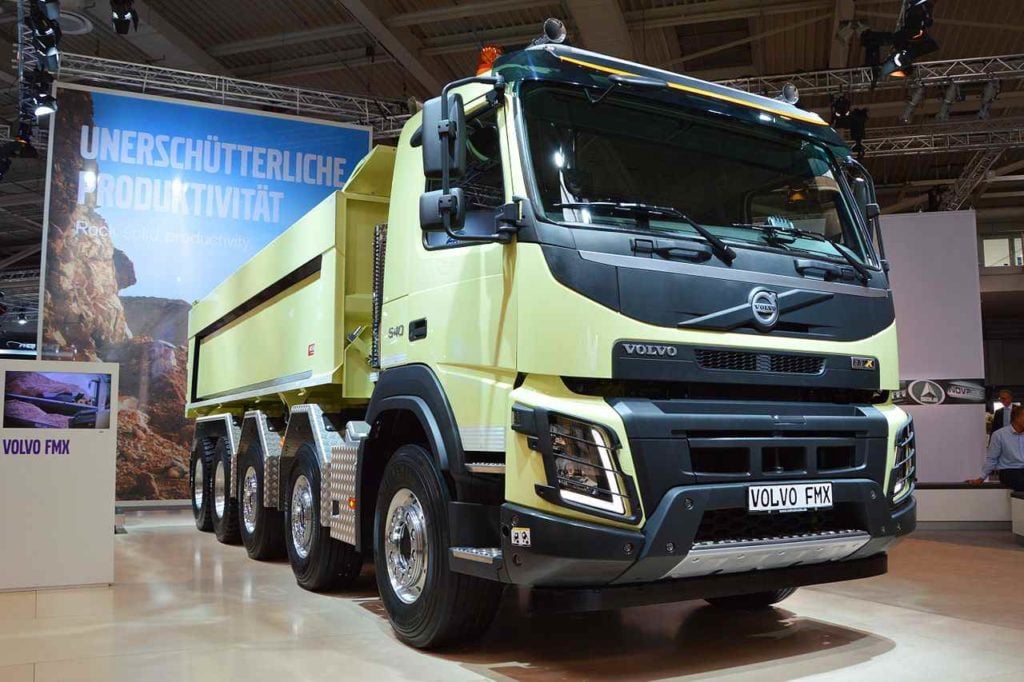 In 2016, Volvo Trucks became the second-largest manufacturer of heavy-duty trucks in the world. The idea behind the first series was to create a car that would perform on the country's rough roads and in cold temperatures. Today, Volvo Trucks sells over 190,000 units each year.
AutoTrader UK has given Volvo Trucks' FH Series a five star review based on the FH Series' driveline that delivers a first-class performance and a choice of options that cover any number of sectors, from heavy-haulage to supermarket deliveries.
An ISO fifth wheel with L-shaped profiles at different heights is included in the range with certified installation permits of up to 36,000 kg. A low-weight variant, the flange-mounted fifth wheel does not need an attachment plate. Individual front suspension enables the front wheels to move vertically and independently of each other for enhanced handling. It is available in 4×2 and 6×2 configurations and has a load capacity of 8,500 kg.
Isuzu trucks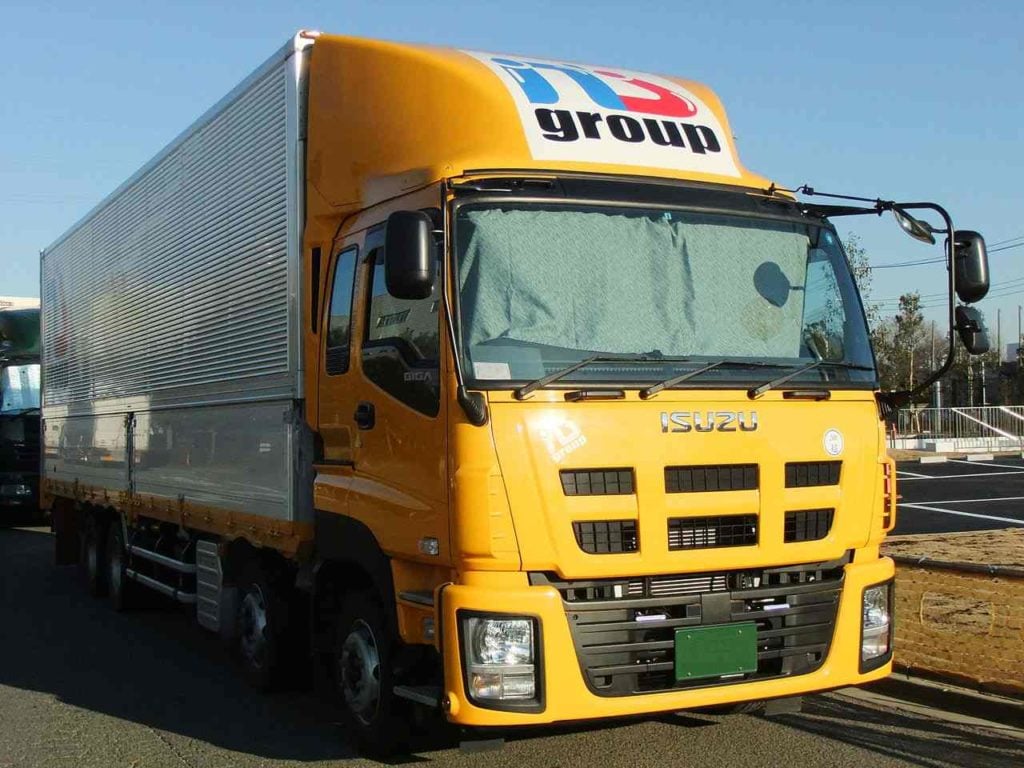 Isuzu Motors Ltd is a Japanese commercial vehicle and diesel engine manufacturing company headquartered in Tokyo. Since 1986, Isuzu has been America's number one selling low cab forward truck and in 2018, the manufacturer won the Work Truck Magazine 2018 Medium Truck award.
Isuzu's N75 is the truck of choice for many companies working in a variety of industries. It is available with either a 3.0 litre, 150PS engine for town and city driving, or a 5.2 litre, 190PS engine for regular main road and motorway driving. The N75.190 has a Gross Vehicle Weight of 7,500 kg and a Gross Combination Weight of 11,000 kg.
At the Asset Alliance Group our exclusive understanding and experience within the industry means we have the right options of trucks and tractor units for your business in stock or on pre-order. Whether you're after trucks for sale, need truck finance, or a commercial vehicle leasing option, we can help you. Our procurement team is continuously working to balance our stock and source specific assets for our customer needs. We remain completely independent and our purchasing levels often make us a leading buyer with the major truck manufacturers – which allows us to pass on these discounts to our clients.
Mercedes trucks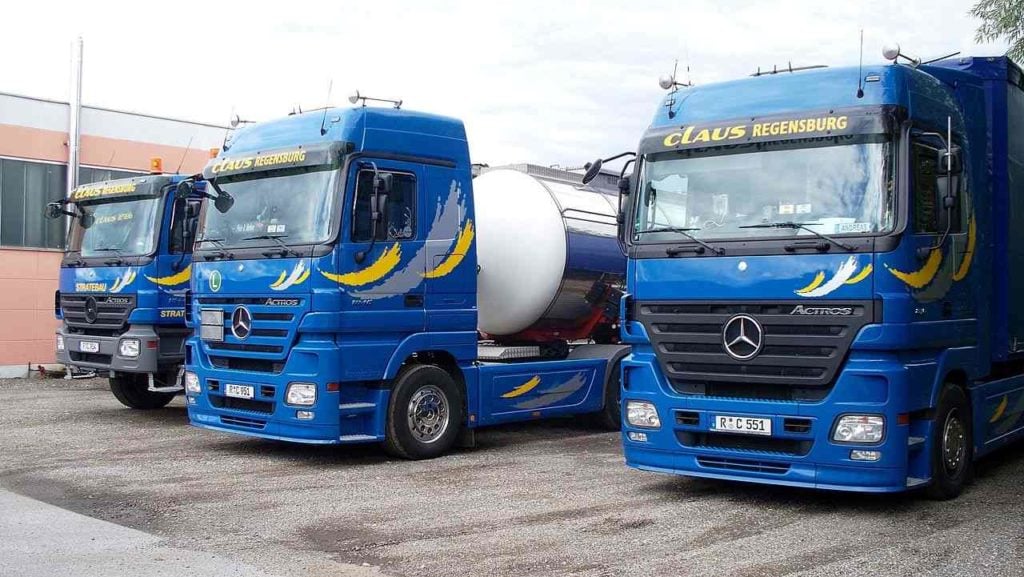 German automobile manufacturer, Mercedes-Benz (a division of Daimler AG), became the biggest selling premium vehicle brand in the world with 2.31 million passenger cars sold globally. The iconic Mercedes star can be seen on the most cutting-edge and powerful Mercedes trucks and Mercedes vans today.
The Mercedes Actros Rigids Range continues to be a popular choice in the industry thanks to an exceptionally smooth and intuitive engine and transmission combination, impressive handling, easy access into and out of a comfortable cab, and levels of refinement and performance expected of this iconic brand. The Actros has a Gross Vehicle Weight of 26,000 kg and a Gross Combination Weight of 40,000 kg. Chassis weights include: first front axle 4,921 kg, first rear axle 1,796 kg, and second rear axle 1,796 kg.
Before going to market, Mercedes carried out more than 60 million test kilometres worldwide on the Actros. This included 40 million kilometres of rough-road testing, and 23 million kilometres of durability testing and testing in extreme conditions – from -40°C in Finland and Sweden to +40°C in Italy and Spain.
Renault trucks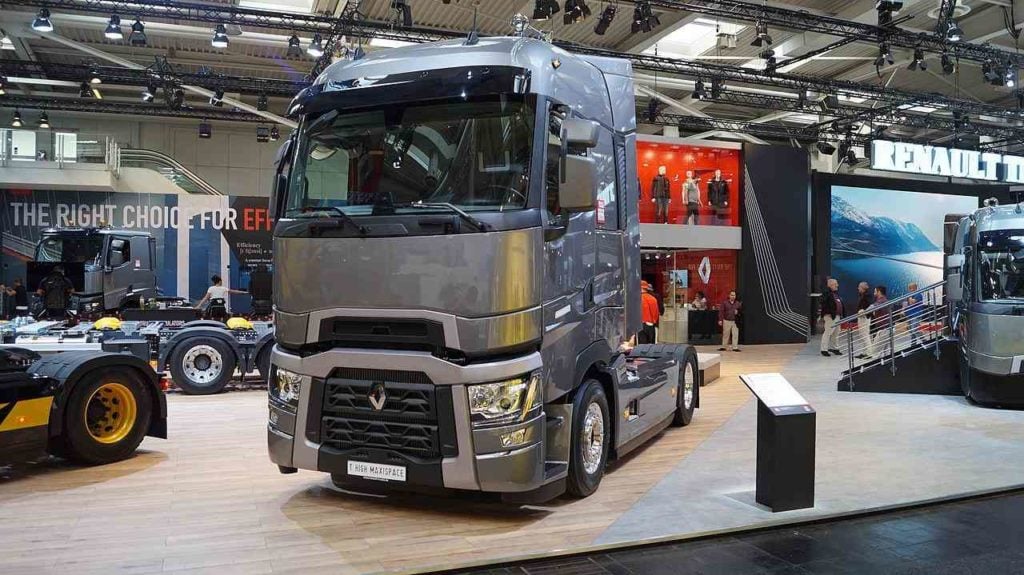 By 2016, French multinational automobile manufacturer, Renault S.A.,was the ninth biggest automaker in the world by production volume. In 2017, the Renault–Nissan–Mitsubishi alliance became the world's biggest seller of light vehicles. Renault Trucks has been owned by the Volvo Group since 2001.
Renault Trucks' T Range of heavy-duty trucks was launched in 2013. Chief designer Hervé Bertrand took inspiration for the T Range from the Renault Magnum, with a front grille area inspired by a conveyor belt and a uniquely-designed cab area created for long distance international truck routes. The Renault Trucks' T includes the robotised Optidriver transmission as standard, improved aerodynamics to reduce fuel consumption, and new comfort and security features. In 2014, Renault Trucks' T Range was voted International Truck of the Year 2015 during the International Motor Show Germany in Hanover.
The Gross Combination Weight of the Renault T640 midlift with a 6×2 axle configuration and Fontaine sliding fifth wheel is 44,000 kg. The thickness of the chassis varies from 6.5 mm to 8 mm and the depth from 266 mm to 300 mm depending on operational requirements, and the T Range offers 17 different wheelbases for optimum configuration as a rigid or tractor. Depending on tyre type, the front axle can carry 7,100 kg to 8,000 kg, and a combination of 7,500 kg and 11,500 kg at the rear bogie.
The asset management specialists
Our Asset Alliance Group Truck and Trailer sales division combines over 25 years of ATE Truck and Trailer Sales and over 35 years of Hanbury Riverside experience. We do more than provide a range of flexible truck finance packages and contract hire and leasing options; we also purchase, refinance and offer commercial vehicle sales procurement for our clients.
If you are a fleet operator, owner or financial director upgrading or refinancing your trucks, get in touch with our experienced sales staff to find out how we can put our industry knowledge to work for you.